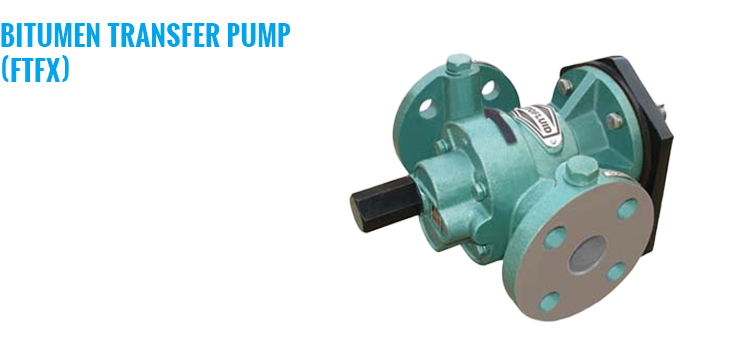 External Gear Pump Manufacturer
Rotofluidpumps is a Leading External Gear Pump Manufacturer From India. it's a popular pumping principle and it's often used as lubrication pumps in machine tools, in fluid power transfer units, and as oil pumps in engines.
Fluid Tech Systems offer "ROTOFLUID" brand gear pump Model "FTFX" (Bitumen Transfer Pumps, External Gear Pumps) which is most efficient and economic range of flange and foot mounting type positive displacement rotary gear pump. Model "FTFX" having Single helical shrink fitted gear pair and hardened and grind finished shaft.Ultra bronze sintered bushes ensured smooth running. It is perfectly designed and construction which increase life of pump and performance of pump.
Model "FTFX" is very similar construction like Model "FTX" but the changes are at end. This pump having flange at the end of suction and delivery which is available only in ¾" size. The flange is specially designed for cleaning pump's inside casing without open pump.
Material of Construction
| | |
| --- | --- |
| Part | Material For FTFX |
| Body | IS.210 FG 220 C.I. Grade |
| Back Cover | IS.210 FG 220 C.I. Grade |
| R.H. & L.H. Gear | EN-8 |
| Rotor/Stator Shaft | EN-19 |
| Bearing[Bushes] | Non Ferrous Sintered Bronze |
| Sealing | "GFO" Pack Teflon |
| R.V. Cap | Aluminum |
| Key for coupling | EN-8 |
Features
Compact and Simple design.
Foot and Flange mounting options.
Self priming pump.
Bi-directional positive displacement pump.
With relief valve design.
Optional high temperature version up to 200º c
Flange end construction at suction & Delivery.
Low cost.
Application
Widely used in Bitumen Application
Bitumen loading and unloading.